Bethesda-Chevy Chase High School
Class of 1966
In Memory
Charles Doran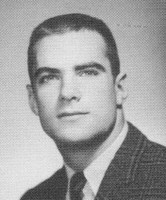 Charles Doran passed away on Sunday, December 18, 2011, with his family by his side at his home in Falls Church, VA after battling a long illness. Charles was born on November 6, 1947 in Washington, DC and grew up in Bethesda, MD. He is survived by his wife, Kathy Poff Doran; his two sons, Charles Michael Doran and Sean Patrick Doran; his sister, Ann Marie Lynott; two nieces, Marita and Monica Lynott; and his Poff Family. Charles graduated from Bethesda-Chevy Chase High School where he excelled in sports, especially football. He attended
Northwestern University
and then enlisted in the U.S.
Army
Paratroopers during the
Vietnam War
. In addition to jumping out of planes, he had other "extreme" jobs, which included deep-sea diving off the Gulf Coast. Charles next worked for Melka Marine Construction, where he worked on the DC waterfront and continued diving. For 15 years he was employed at Super Concrete Corporation. He then moved to Dyna Corporation, from which he retired in 2006, when he fell ill.