Bethesda-Chevy Chase High School
Class of 1966
In Memory
Pamela Berkeley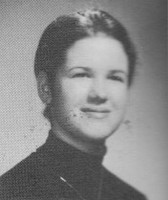 From Catherine Lethbridge
Pamela Berkeley
Date Of Birth: 10-14-1948
Date Deceased: 5-5-2016
Age at Death: 67
Cause of Death: Complications from cancer
Classmate City: Washington, DC
Survived By: Many friends and relatives in England

I met Pamela Berkeley over fifty years ago when she lived near my family on Drummond Avenue. She had a beautiful singing voice and introduced me to her musical life and friends at the National Cathedral. She led a multi-lingual, peripatetic and adventurous life: living and working in Spain, France, the U.K., on both coasts of the US, and most recently in her beloved Holland. She attended the University of Maryland and Leiden University but was always a student for the pure love of learning. Her career spanned the worlds of law, banking and finance. She was a professional, as she described it, itinerant treble chorister. Her friends will miss her deeply.